Advances in face lifts have developed parallel to our improved understanding of the facial structures. The most recent approaches recognize that the aging process is produced in all the tissues and layers of the face. Current trends in face and neck lifts seek to restore the deep layers of adipose, fascial, and muscular tissue and of course the skin, to its original and more youthful state. The objectives of this surgery are to improve aesthetic-facial components, the loss of elasticity in the cheek area and the internal structures of the lower third of the face, the nasogenian crease, loss of jawline definition, correction of obtuse chin-neck angle created by the accumulation of fatty deposits, and elimination of the neck bands, as well as the repositioning of the eyebrows and the treatment of wrinkles in areas near the eyes such as crow's feet at the corner of the eyes and forehead lines. Typically cosmetic eyelid surgery (blepharoplasty) is performed in conjunction with this surgery to offer an aesthetic and harmonious result in the entire face.

| | | |
| --- | --- | --- |
| | | |

Candidates. Patients of either sex between 20 and 70 years of age who wish to improve the aesthetic appearance of their face. Although any patient can benefit from this surgery, the ideal candidates are patients in their 40s, not obese, with laxity in the skin, without fine lines and with a minimal accumulation of fat. Smokers should refrain from smoking at least two weeks before and three weeks following the procedure.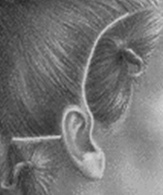 Surgery. Is usually performed under general anesthesia, although some patients prefer local anesthesia and intravenous sedation. The incisions and the repositioning of the skin vary according to each patient, but generally consist of an incision that begins in the hairline, follows the natural creases in front of the ears and ends in behind the outer ear and in the upper temple under the hairline. In some patients liposuction of the neck is performed to eliminate a double chin and to improve jaw line definition, and in other cases Botox is applied to reduce deep expression lines.

Post-operative care. Following 2 to 3 hours of surgery, soft bandages are placed on the face and eyelids, and the patient remains in the clinic or hospital for 24 hours. The dressings are removed the following day. The patient is advised to rest for 5 days and to avoid exposure to sun or heat for 10. Some patients develop ecchymosis or swelling in the neck and cheeks although this is generally minimal and disappears within 10 days of surgery. The complete return to daily activities is within 3 weeks.
Actual before and after photos